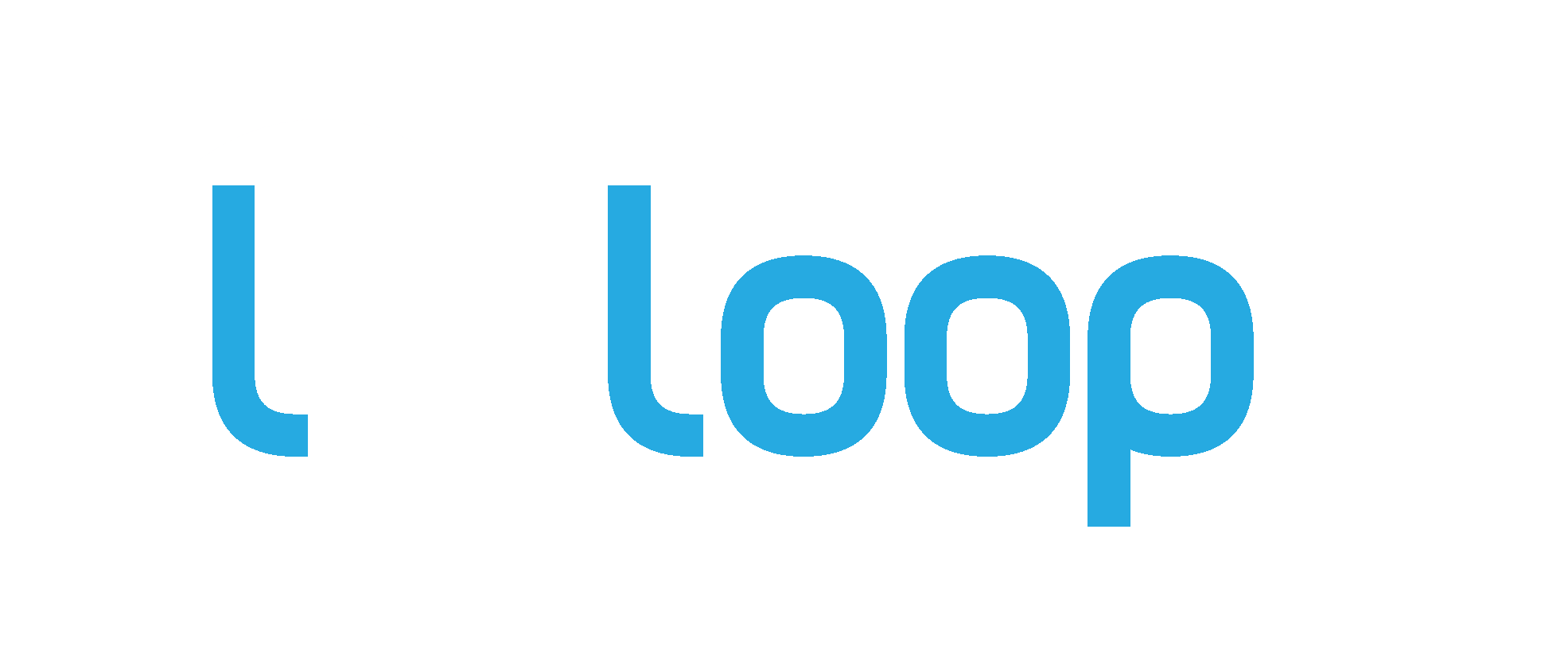 Our Commitment to Privacy
Our Commitment to Privacy at Loop 1, Inc. is deeply committed to your right to privacy and safeguarding the personal information you entrust with us. We have very strict privacy policies and we strive to keep your personal and financial information secure.
This Privacy Policy covers Loop 1, Inc. treatment of personally identifiable information that Loop 1, Inc. collects when you are on the Loop 1, Inc. web site, and when you use Loop 1 services.
We will NEVER sell or rent your name, e-mail address or personal information to any third party except to fulfill your order, unless specifically authorized by you.
Only authorized employees and the registered organization account holder may access your information.
​
By using our website, you are accepting the practices we describe here. Loop 1, Inc. reserves the right to change, modify, add, or remove provisions of this Privacy Policy, which will be posted and noted (as "Last Updated") here on this site.
Traffic Data and Information
Loop 1, Inc. utilizes a number of internal and third-party methods to recognize visitor data such as IP addresses and browser settings (Collectively 'Visitor Data'). Loop 1, Inc. internal servers and software automatically recognizes Visitor Data. No Personal Identifiable Information (as defined below) is revealed in this process. The Site may also use such Visitor Data to compile traffic data about the kind and types of visitors that use the web site at specific intervals (Collectively 'Traffic Data').
From time to time, Loop 1, Inc. may use the standard cookie feature or other industry standard technologies (e.g., web beacons, pixel tags, clear GIFs) of major browser applications and third-party providers as well as employ internally developed cookies and tracking code that allows Loop 1, Inc. to store a small piece of data on a visitor's computer about the visit to the Loop 1, Inc. web site. Personally, Identifiable Information is not captured in such electronic tools, nor does Loop 1, Inc. use such electronic tools to mine Personally Identifiable Information.
We may use Traffic Data information to analyze our Web Site Traffic but such information is not examined for Personally Identifiable Information. We may also use such Traffic Data to help diagnose problems with our server, to administer our site or to display the content according to your preferences. Traffic and Transaction Information may also be shared with business partners, affiliates, and/or advertisers on an aggregate and anonymous basis.
Personal Information
In order for each customer to access and utilize Loop 1, Inc.'s products and services, Loop 1, Inc. requires each customer to provide us with certain personal information (collectively 'Personally Identifiable Information'). We may combine your information that we have with information we obtain from business partners or third parties to provide you with a better product or Loop 1, Inc. experience. Personally, Identifiable Information is only captured when a visitor signs in to the system and willingly discloses such information to:
Become a registered user of the Loop 1, Inc..com Website
Purchase tickets or admission to an event or venue
Sign-up or subscribe for products or services that we may periodically make available
Participate in a special promotion
Personally, Identifiable Information includes, but is not limited to: (i) 'Contact Data' (such as your name, address, city, state, zip code, phone number, email address), (ii) 'Financial Data' (such as your credit card number, expiration date, verification code), (iii) 'Demographic Data' (such as your zip code, education, gender, age), (iv) 'Unique Identifiers' (such as your user name, account number, password), and (v) other Optional Data' (such as your personal preferences, date of birth). Referral data that you submit, such as your friend's name, email address or other contact information, will be stored and used solely for the intended purpose (e.g., referral, sending a gift and tracking the success of the referral program).
Use of Personal Information
Loop 1, Inc., sometimes with third party assistance, may use your Personally Identifiable Information to complete the purchase transaction and to communicate with you about your ticket order, ticket delivery or other inquiry, to verify your identity and process your order and payment through merchant account services, to improve our administrative capabilities, and to analyze our customer demographics to better serve our clients. Your Contact Data may be used to contact you in order to follow up with transactions initiated on the Loop 1, Inc. web site, respond to inquiries made through the Site, inform you of any changes to the Site and send you additional information about Loop 1, Inc. or its services. We do not sell or rent Personally Identifiable Information to third parties, except as necessary to provide you with the services we offer. Loop 1, Inc. does not store customer credit card information on its servers.
In addition, we may disclose your information if:
we receive a subpoena or otherwise to comply with the law,
we believe it is necessary to share information in order to investigate, prevent or take action regarding any illegal or unauthorized activities, suspected fraud, situations involving potential threats to the physical safety of any person or violations of our Terms of Use
in connection with a substantial corporate transaction, or in the unlikely event of bankruptcy.
We may be required to share your personal information with certain entertainment organizations and venues (an "Event Host") as part of our contractual relationship with them. Of course, if you wish to purchase tickets to an event and remain anonymous, you can purchase your tickets in person, directly through the Event Host's box office. Event Hosts may not be subject to the provisions of this Privacy Policy, which means that they may use your personal information for purposes other than contacting you about the event you are going to attend, unless you contact them and request otherwise. When you purchase tickets to an event, you should read and become familiar with the privacy policies of the Event Host. The Company has no control over the use of your personal information by any Event Host and you agree that we are not liable for any use of your personal information by an Event Host. If you have special preferences concerning use of your personal information by an Event Host, you must communicate those preferences directly to them.
Please note that Contact Data and Traffic Data are used to gather general statistics regarding our customers and visitors respectively, in order to enhance the consumer experience on the web site. We may also use demographic data in a manner that does not identify you specifically or allow you to be contacted but does identify certain criteria about our users in general. For example, we may inform third parties about the number of registered users, number of unique visitors, and the pages most frequently browsed.
We also use Contact Data such as name, physical address and email address to provide special information and promotions regarding our products or in order to contact a customer regarding an order. If you choose to also provide us Optional Data, such information may be used to provide additional services customized to your preferences.
Opting Out
You may choose not to provide us with any Personally Identifiable Information. In this case, you may be able to visit the web site, and contact a representative at Loop 1, Inc. at info@loop-1.com; however, we cannot process an order without such information.
If you do not wish to receive information and/or promotional materials from Loop 1, Inc. or from our partners, you may select the appropriate 'opt-out' at the time you create your account or may unsubscribe from our mailing list on any one of the promotions or other materials we send to you.
Web Site Areas Beyond Loop 1, Inc. Control
The Site may include interactive forums such as message boards and chat rooms. If you choose to submit content for publication we may publish your screen name and other information as provided by you or to personalize your user experience. Please note that any Personally Identifiable Information disclosed in such areas is public and becomes public information. You should use caution when deciding to disclose your personal information.
Third Party Web sites
Our Site includes links to other Web sites whose privacy practices may differ from those of Loop 1, Inc., including co-branded sites or relationships with "powered by" partners or sponsors, E-commerce service providers, job postings, advertisers or links to third-party Internet websites which are not owned or operated by Loop 1. If you submit personal information to any of those sites, your information is governed by their privacy statements. We encourage you to carefully read the privacy statement of any Web site you visit.
User Access to and Ability to Update Personally Identifiable Information
You can review and update, or if you desire, remove, your personal account profile (Collectively 'personal profile') by contacting us at info@loop-1.com.
Our Commitment to Data Security
We use data security systems to encrypt your personal and financial information to reduce the risk that your information will be obtained by unauthorized persons. Our electronic security measures are complemented by the physical security of our facilities and limited access to certain critical areas, such as our computer locations. However, because of the increasing sophistication of computer hackers and others who would seek to invade our computer systems for the purpose of stealing information, damaging our systems or denying our systems' ability to operate effectively to safeguard personal and financial information as intended, we make no promises as to the security of personal or financial information in our possession or the impenetrability of our computer systems under unusual circumstances or our computer system's resilience to future sophisticated attacks.
Lost or Stolen Data
Loop 1, Inc. has security measures in place to prevent the loss, misuse, destruction and alteration of the information that you provide us or we obtain from you. We will have no liability to you or to any third party arising out of any such loss, misuse, destruction, or alternation.
Information of Minors & Children
We do not target our Website or our products or merchandise for sale on our Website to children, and our Website does not seek to collect contact information from children under the age of 13. If you are under the age of 13, please do not email us, contact our Website, attempt to use our Website, submit information to our Website, or ask us to email you. If you are under the age of 18, you should get permission from a parent or guardian before you email our Website, contact our Website, attempt to use our Website, submit information to our Website, or ask us to email you.
BREACH OF INFO
FOR ANY REASON YOU BELIEVE THAT YOUR PRIVACY HAS BEEN BREACHED THROUGH THE USE OF OUR WEB SITE, PLEASE CONTACT US AT info@Loop-1.com.